Higher wholesale costs push up default and pre-payment price caps from April
Press release
Industry sector
Supply and Retail Market
Generation and Wholesale Market
From 1 April, the levels of the default tariff price cap will increase by £117 and pre-payment meter cap by £106 to reflect higher costs 
Customers on default deals are still better off - Ofgem analysis suggests that without the default tariff cap they could be overcharged by £75-£100 a year
Households could save more money by switching
The price cap for customers on default (including standard variable) tariffs, introduced on 1 January 2019, will increase by £117 to £1,254 per year, from 1 April for the six-month "summer" price cap period. The price cap for pre-payment meter customers will increase by £106 to £1,242 per year for the same period.
Using published methodologies, Ofgem adjusts the level of the caps twice a year to reflect the estimated costs of supplying electricity and gas to homes for the next six-month period. Ofgem will reset the level of the cap in August for the six-month winter price cap period which begins on 1 October.
Capped prices only increase when the underlying cost of energy increases. Equally when costs fall consumers' bills are cut as suppliers are prevented from keeping prices higher for longer than necessary.
The caps will continue to ensure that the 15 million households protected pay a fair price for their energy because the rises announced today reflect a genuine increase in underlying energy costs rather than supplier profiteering.
When the default tariff price cap was introduced on 1 January, suppliers were forced to scrap excess charges of £76 per year on average per default tariff customer and the cap stops this overcharging from returning.
Ofgem analysis suggests that default tariff customers could be paying around £75 to £100 a year more on average for their energy had the default tariff cap not been introduced even after today's increase.
Around £74 of the £117 increase in the default tariff cap is due to higher wholesale energy costs, which makes up over a third (£521) of the overall cap. Higher wholesale energy costs have similarly pushed up the level of the pre-payment meter cap.
Last year higher oil prices, amongst other factors like the higher demand for gas from the 'beast from the east', led to a rise in wholesale gas prices. Because of the importance of gas as a source of electricity generation, this also led to higher wholesale electricity prices. 
While the prices of wholesale energy contracts used for calculating the cap have fallen in recent months, overall these costs remain 17% higher than the last cap period (see wholesale energy charts below).
Other costs, including network costs for transporting electricity and gas to homes and costs associated with environmental and social schemes (policy costs), have also risen and contributed to the increase in the level of the caps.
Customers who are paying a fair price thanks to the caps can save more money on their energy bills by switching to a better deal.
Dermot Nolan, chief executive of Ofgem, said:
"Under the caps, households on default tariffs are protected and will always pay a fair price for their energy, even though the levels will increase from 1 April.
"We can assure these customers that they remain protected from being overcharged for their energy and that these increases are only due to actual rises in energy costs, rather than excess charges from supplier profiteering.
"Alongside the price caps, we are continuing to work with government and the industry to deliver a more competitive, fairer and smarter energy market that works for all consumers."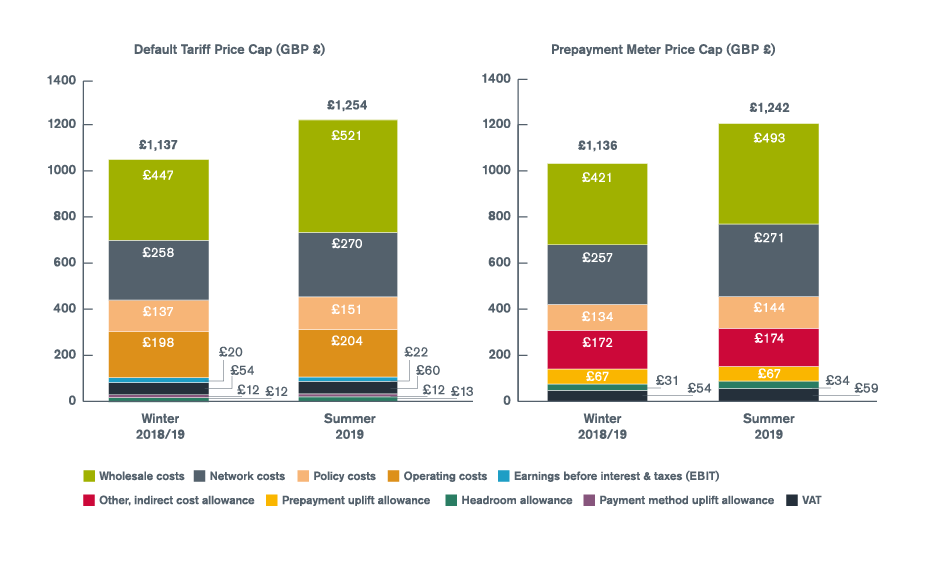 Note: cost components above do not add up exactly to total cap levels due to rounding effect.
Notes to editors
1. The default tariff price cap protects around 11 million households on default, including standard variable, tariffs. The pre-payment meter price cap protects around 4 million households who prepay for their energy.
2. The price caps are a cap on a unit of gas and electricity, with standing charges taken into account. They are not a cap on customers' overall energy bills, which will still rise or fall in line with their energy consumption.
3. Suppliers who raise their prices from 1 April must write to affected customers before the price rises take effect, ensuring customers have enough time to consider their options and switch away, if they so choose.
4. Ofgem has decided to include a full Capacity Market allowance in the summer price cap period (the Capacity Market is a government scheme which is designed to ensure electricity security of supply). This decision reflects the government's intention, subject to the European Commission's State Aid decision, to make suspended payments to capacity providers, and its expectation that suppliers would pay these costs. We consider it would be reasonable for suppliers to collect these costs from their customers, including those on default tariffs. In the event that the European Commission does not provide State Aid approval for deferred payments, we expect suppliers to reimburse customers, and we would consult on the best way to ensure this.
5. Ofgem analysis suggests that the default tariff price cap would have reduced the price of the average standard variable tariffs from the six largest suppliers by around £75 to £100 per year since April 2015 had it been in place over this period. The chart below shows these suppliers have consistently charged more than the indicative level of the default tariff cap, which reflects the estimated costs of an efficient supplier. This analysis suggests had the cap not been introduced on 1 January, customers would be paying significantly more even after the increase for the next cap period. However, it is impossible to estimate an exact savings figure going forward as suppliers can no longer price above the level of the cap.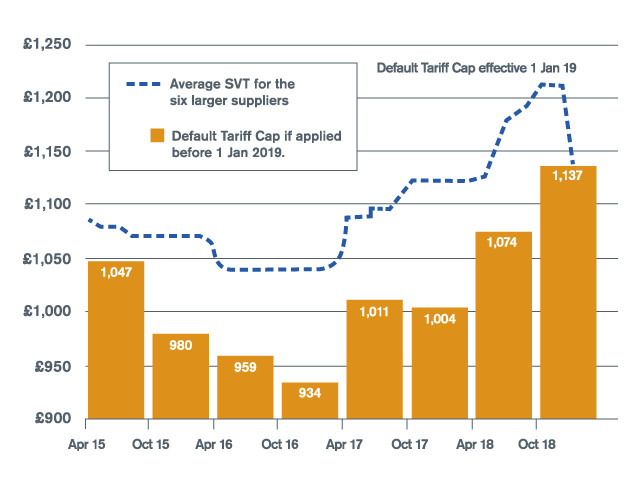 6. Suppliers buy electricity and gas on the wholesale markets in advance, purchasing "forward contracts" gradually over time. The default tariff price reflects suppliers' costs because we use the wholesale prices of the relevant forward contracts that were sold in advance during an "observation window" before each 6 month price cap period. The observation window for the summer price cap period (April-September) is the previous August-January. The observation window for the winter price cap period (October-March) is the previous February-July. The graphs below show a) how wholesale gas and electricity prices for the relevant contracts on offer in each observation window result in an allowance that reflects suppliers' average costs, and b) that the wholesale prices we use to set the summer price cap period are higher than the prices used to set the cap for the preceding winter period.

7. The price cap levels represent a dual fuel customer who uses a typical amount of gas and electricity, using a measure called Typical Domestic Consumption Values for a medium gas user and medium electricity user.
8. From 1 April the per unit level of the default price cap (figures for pre-payment meter price cap in brackets) for a typical customer paying by direct debit will be 19p (16p) per kWh for electricity-only customers and 4p (4p) per kWh for gas-only customers.
9. The level of the two caps differs because the pre-payment meter price cap is calculated using a methodology chosen by the Competition and Markets Authority while Ofgem has designed the methodology for the default tariff price cap, which it considers is most appropriate for a market-wide cap.
10. Information and materials for consumers about the price caps is available at: www.ofgem.gov.uk/energy-price-caps
Further information
For media, contact:
Michelle Amos: 0207 901 1881
Tim Webb: 0207 901 7179
Media out of hours mobile: 07766 511470 (media calls only)
For investors, contact:
John Bolitho: 0207 901 1858
About Ofgem
Ofgem is the independent energy regulator for Great Britain. Its priority is to make a positive difference for consumers by promoting competition in the energy markets and regulating networks.
For facts, figures and information about Ofgem's work, see Energy facts and figures or visit the Ofgem Data Portal. 
For energy insights and updates straight to your inbox from Ofgem, please subscribe.