by Ofgem Partner of Enforcement Pamela Taylor & Ofgem Partner of Competition and Consumers Anthony Pygram.
Last week Ofgem held its Annual Compliance and Enforcement Conference, attended by a number of energy suppliers, network operators and consumer organisations. The focus of the day was to share the lessons from Ofgem's compliance and enforcement action and our future approach.
Our vision is that energy companies put consumers first.
Our vision is that energy companies put consumers first. As we have said on a number of occasions, we think the sector has a way to go to achieving this culture. 
We have powers to investigate, and if companies are found to be in breach of their obligations, powers to impose directions and penalties. The reason for these powers is to ensure that companies face serious consequences for failing consumers and to deter others from similar conduct. 
As such, we have adopted a new approach to monitoring and engaging with energy suppliers. 
We are engaging more closely with suppliers and holding a mirror up to them, to show them what we see and to challenge them on it. Also, we are working closely with Citizens Advice and the Energy Ombudsman to make sure we have as full a picture as possible of what is happening in the market.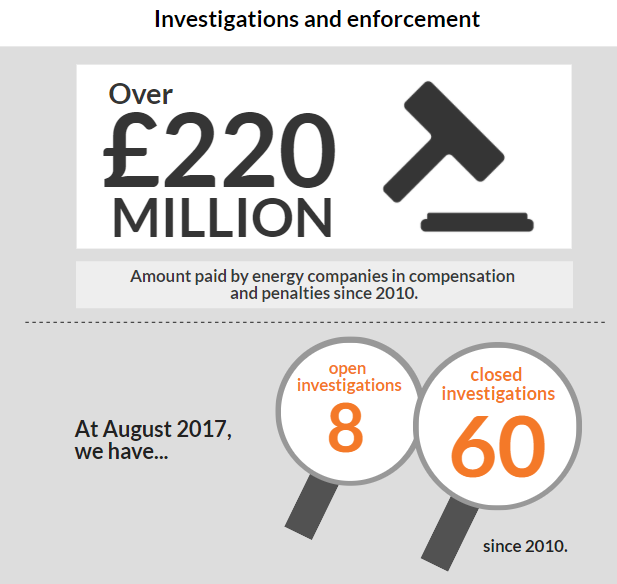 Information correct at 31 August 2017.
See facts and figures for more information. 
Where things do go wrong, we expect companies to act quickly to put things right promptly and, where appropriate, compensate consumers. We also expect companies to report the matter to us.
We are using a spectrum of approaches to enforcement, ranging from increased monitoring and target setting to a full-blown investigation.  
We use a rigorous approach in deciding how best to tackle non-compliance and have set out our criteria in our new annual enforcement guidelines. In deciding whether to open an investigation, we will assess the seriousness of the case according to the potential harm to consumers, to competition or to our ability to regulate. 
We will prioritise investigations where the alleged breach is considered to be serious, where the company appears to be regularly falling short of its requirements, and/or is unwilling or unable to address concerns in a timely and satisfactory manner. 
If you would like to review or comment on our amended Enforcement Guidelines please contact us at enforcement@ofgem.gov.uk and we will email a copy together with details of the changes.  Comments should be submitted by Friday 22 September.