Policy areas

Business consumers
Corporate information
Domestic consumers
Electricity - distribution
Electricity - offshore transmission
Electricity - retail markets
Electricity - transmission
Electricity - wholesale markets
Enforcement
Environmental programmes
ECO
Domestic RHI
Non-Domestic RHI
FIT
REGO
RO
CCL
WHD
GER
Gas - distribution
Gas - retail markets
Gas - transmission
Gas - wholesale markets
Licences, codes and standards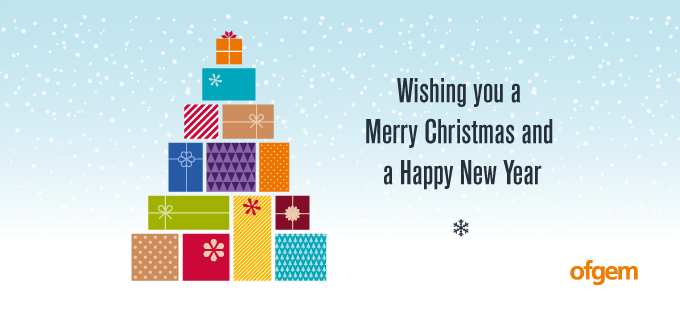 Website updates during the Christmas and New Year period
We'll be running a limited publishing service over Christmas and the New Year. This will begin today, 21 December, with full services resuming on Wednesday 2 January 2019.
If you're subscribed to the Ofgem Daily Update, you can expect to receive fewer emails with less content over this time.
Not subscribed to the Ofgem Daily Update?
You can make sure you're receiving our latest news and communications by subscribing to the Ofgem Daily Update and our newsletters.
Help and advice for consumers
If you're looking for advice about household energy bills, dealing with your energy supplier and what to do if you're affected by a power cut, you can find help in our consumer advice section.
Energy Price Caps
For information and advice on energy price caps, including the Default Tariff Energy Price Cap which applies from 1 January, visit our online guide.